PHP for the Web: Visual QuickStart Guide
Publication Date: December 22, 2008 | ISBN-10: 0321442490 | ISBN-13: 978-0321442499 | Edition: 3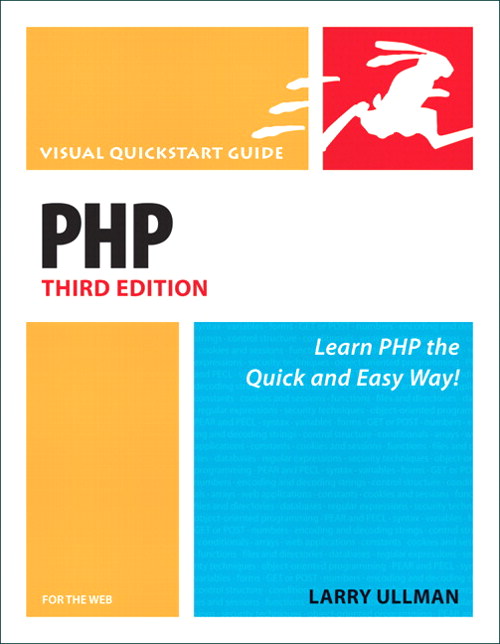 With PHP for the World Wide Web, Third Edition: Visual QuickStart Guide, readers can start from the beginning to get a tour of the programming language, or look up specific tasks to learn just what they need to know. This task-based visual reference guide uses step-by-step instructions and plenty of screenshots to teach beginning and intermediate users this popular open-source scripting language. Leading technology author Larry Ullman guides readers through the new features in PHP 6, focusing primarily on improved support for handling any language in a Web site. Other addressed changes include removal of outdated and insecure features, plus new functions and more efficient ways to tackle common needs. Both beginning users, who want a thorough introduction to the technology, and more intermediate users, who are looking for a convenient reference, will find what they need here--in straightforward language and thorough readily accessible examples.
Beginning PHP and MySQL From Novice to Professional
Publication Date: March 28, 2008 | ISBN-10: 1590598628 | ISBN-13: 978-1590598627 | Edition: 3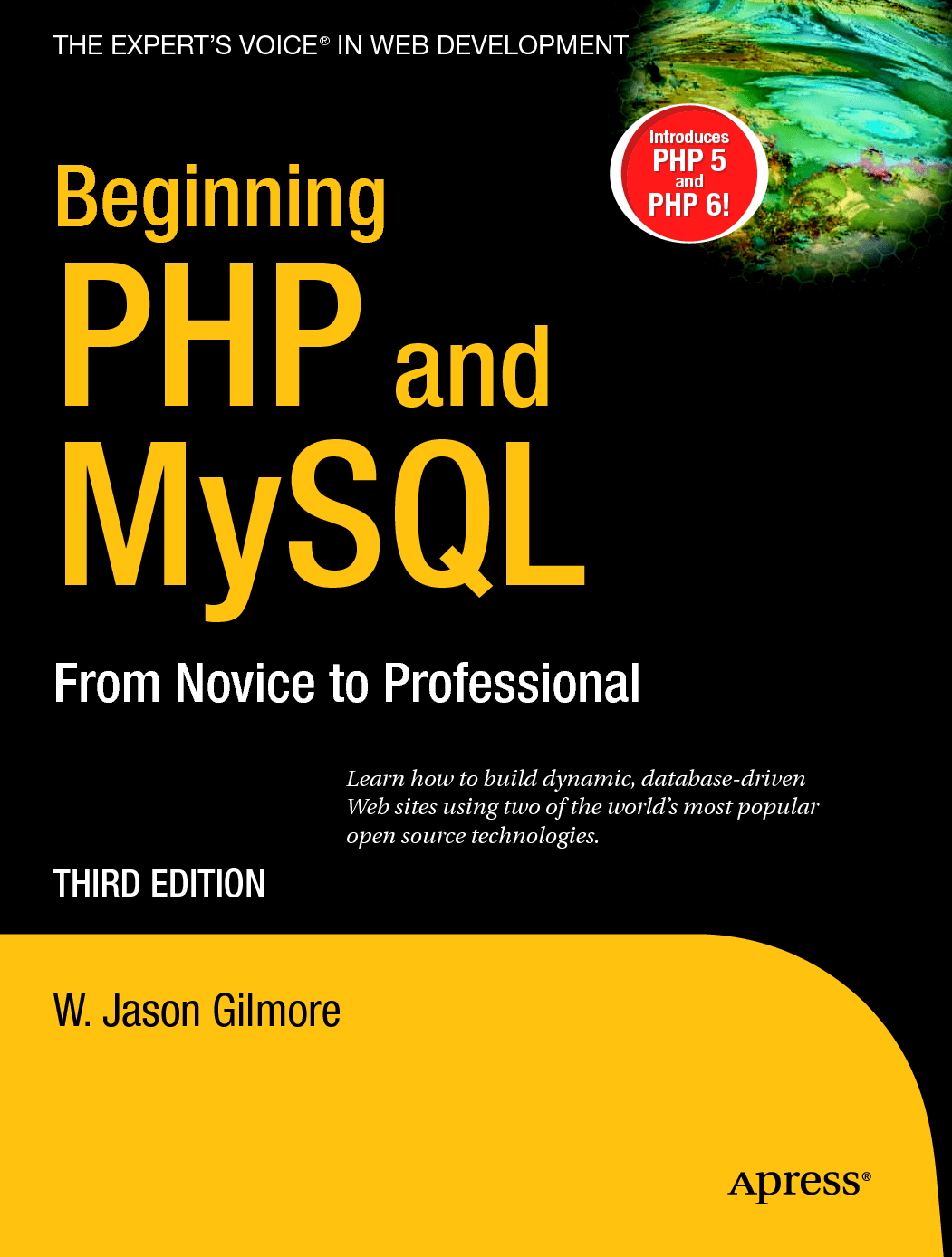 Beginning PHP and MySQL: From Novice to Professional, Third Edition offers a comprehensive introduction to two of the most prominent open-source technologies on the planet: the PHP scripting language and the MySQL database server. Updated to introduce the features found in MySQL's most significant release to date, readers will learn how to take advantage of the features of both technologies to build powerful, manageable, and stable web applications.
Essentially three books in one, readers will not only profit from extensive introductions to the core features of each technology, but also learn how to effectively integrate the two in order to build robust data-driven applications. Packed with practical examples and insight into the real-world challenges faced by developers based on author W. Jason Gilmore's seven years of expertise working with these technologies, readers will repeatedly return to this book as both a valuable instructional tool and reference guide.
MySQL Developer's Library
Publication Date: August 29, 2008 | Edition: 4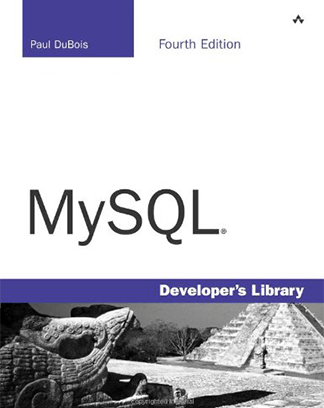 The unexpected pleasure of reading books about databases is that they are often written by authors with highly organized minds. Paul DuBois and his editors at New Riders have assembled MySQL with a clarity and lucidity that inspires confidence in the subject matter: a (nearly) freely redistributable SQL-interpreting database client/server primarily geared for Unix systems but maintained for Windows platforms as well. What isn't "free" about MySQL (the application) is its server's commercial use; all clients and noncommercial server use are free. DuBois's tome isn't free either, but its list price is modest in light of its value and the value of its namesake.
The volume is superbly organized into 12 chapters and 10 appendices and contains a concise table of contents and a comprehensive 50-page index. It is peppered with references to the online HTML documentation that comes with the source and binary distributions (which are available and easy to install in stable rpm and tar releases.)
The first third of MySQL is an excellent instruction tool for database newbies; the second third is a detailed reference for MySQL developers; and the last third consists of clearly annotated appendices, including C, Perl (but not Python), and PHP interfaces.
Perhaps as an indication of the collective will of the developers of MySQL, DuBois does not separate Windows 95/98/NT design or development specifics from its main discussions. Platform-independent design is a goal, not a reality, and users will have to rely on newsgroups and mailing lists for details. Moreover, security issues are addressed in a mere 18 pages, a large part of which is devoted to standard Unix file and network-access permissions. Next to nothing is mentioned about defense against common hacking strategies, the use of secure shell interfaces, or access encryption.
Although it is nearly 800 pages in length, DuBois's book is thankfully not encyclopedic. It is a valuable précis of the MySQL database, and its easy-to-skim look and feel will make it an excellent browse for database experts who want to know what is and is not possible within MySQL, the application. --Peter Leopold --This text refers to an out of print or unavailable edition of this title.
Pro PHP and jQuery
By Jason Lengstorf | ISBN13: 978-1-4302-2847-9 | User Level: Intermediate to Advanced | Publication Date: June 21, 2010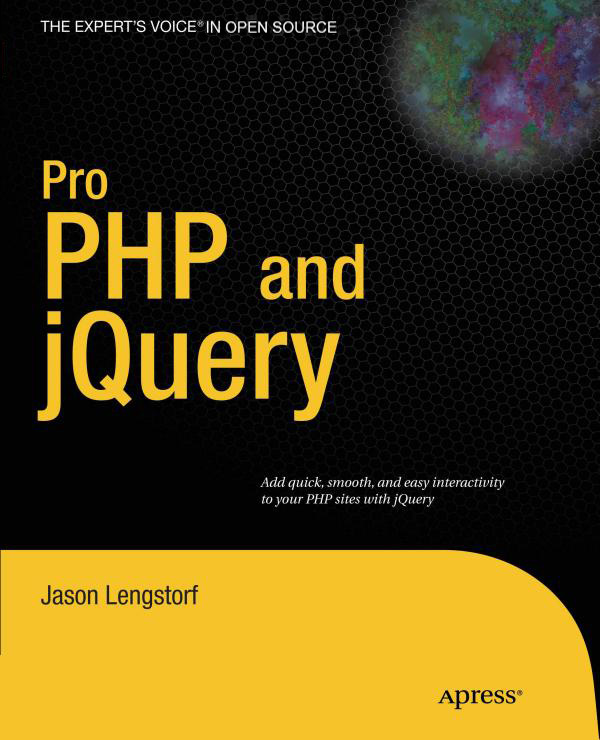 This book is for intermediate programmers interested in building Ajax web applications using jQuery and PHP. Along with teaching some advanced PHP techniques, it will show you how to take your dynamic applications to the next level by adding a JavaScript layer with jQuery.
Learn to utilize built-in PHP functions to build calendar tools.
Learn how jQuery can be used for Ajax, animation, client-side validation, and more.
What you'll learn
How to use PHP to build a calendar application that allows users to post, view, edit, and delete events
How to use jQuery to allow the calendar app to be viewed and edited without requiring page refreshes using built-in Ajax functions
The power and versatility of PHP's object-oriented programming style
The various forms of security available and how to best apply them
jQuery plug-in development patterns to create modular, reusable jQuery plug-ins.
The basics of jQuery effects, including fading elements, generating HTML markup on the fly, and creating modal windows
Who this book is for
This book is intended for programmers who want to bridge the gap between front- and back-end programming. It does not cover HTML or CSS except where absolutely necessary, and it focuses on taking intermediate PHP developers to the next level while getting comfortable with Ajax and the power of jQuery.
Pro PHP Application Performance: Tuning PHP Web Projects for Maximum Performance
Publication Date: December 28, 2010 | ISBN-10: 1430228989 | ISBN-13: 978-1430228981 | Edition: 1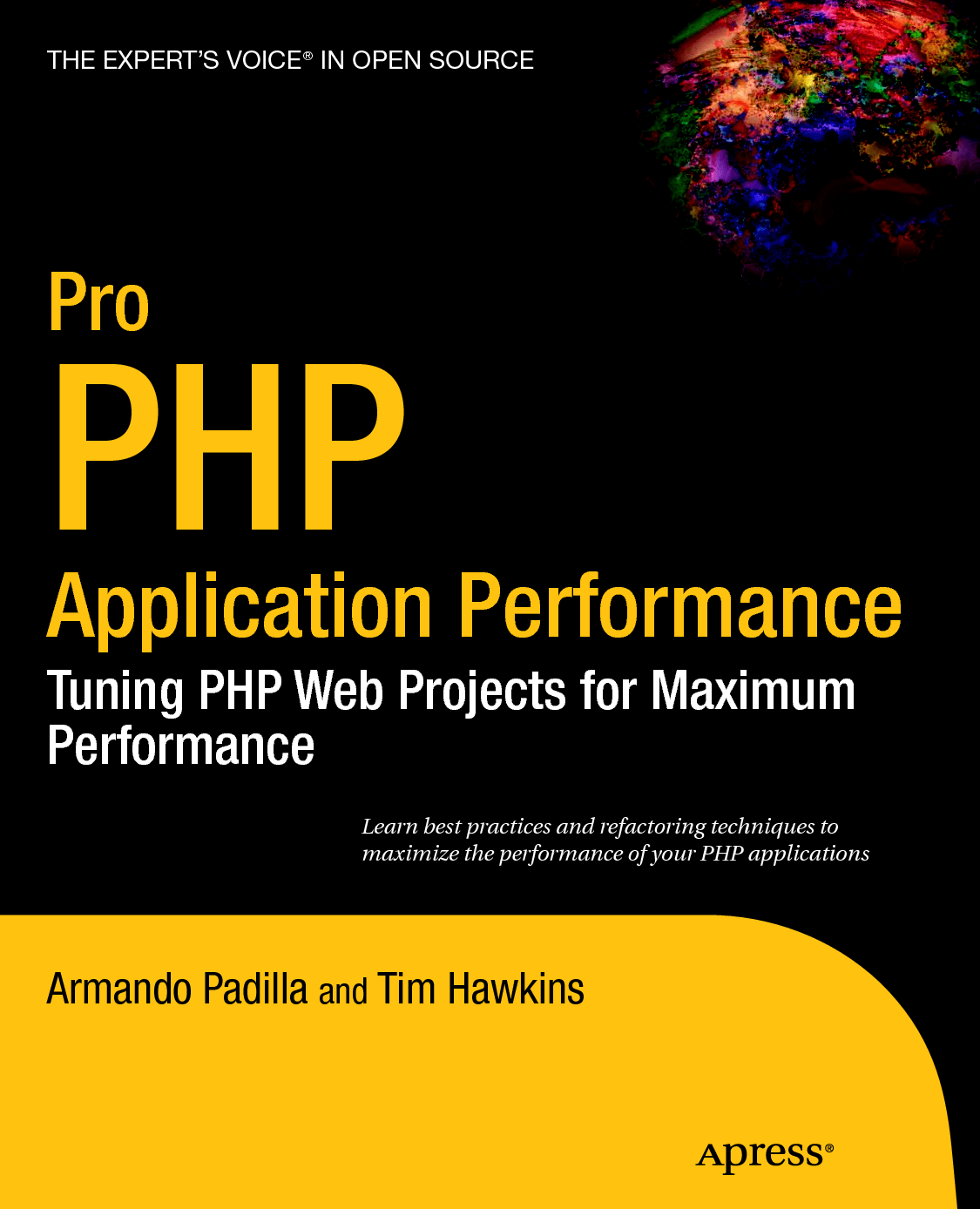 Pro PHP Application Performance will help you understand all the technologies and components which play a role in how well your applications run. When seconds can mean the difference between retaining a user and losing a user, it's important for all of us to have optimization as part of our project roadmap. But what components within your application should you analyze? How should you optimize? And how can you measure how well your application is performing? These are some of the questions that are answered in this book.
Along the way you will also learn the "why" of optimizing. You'll discover why you should optimize a specific component, why selecting one function over another is beneficial, and how to find and use the optimization tools available to the open source community. You'll also learn how to deploy caching software as well as web server software. Pro PHP Application Performance will also teach you more advanced techniques, such as:
Using Xdebug to profile functions that are not running as efficiently as possible.
Comparing opcode executed by different PHP functions to narrow the search for functions that run efficiently.
Using strace to analyze Apache while your application is served to the user.
Once you complete this book you will have a complete sense of where to start optimizing and, most importantly, have the tools which allow you to continue optimizing in other PHP applications going forward.
What you'll learn
How to improve the performance of existing PHP applications
How to maximize the performance of existing operating systems and databases
How to refactor existing PHP code for better performance
How to identify and rectify bottlenecks in PHP code
How to take advantage of variable caching to increase performance
Strategies for selecting server hardware for best performance
Who this book is for
This book will appeal to established PHP developers who wish to write new, complex applications or want to rearchitect existing ones. Developers of other languages such as Ruby, Python, and VB.NET will also have an interest in the techniques for tuning the performance of web servers, databases, and operating systems.
Table of Contents
Benchmarking Techniques
Improving Client Download and Rendering Performance
PHP Code Optimization
Opcode Caching
Variable Caching
Choosing the Right Web Server
Web Server and Delivery Optimization
Database Optimization
Installing Apache, MySQL, PHP, and PECL on Windows
Installing Apache, MySQL, PHP, and PECL on Linux
PHP Objects, Patterns and Practice
Publication Date: June 6, 2010 | ISBN-10: 143022925X | ISBN-13: 978-1430229254 | Edition: 3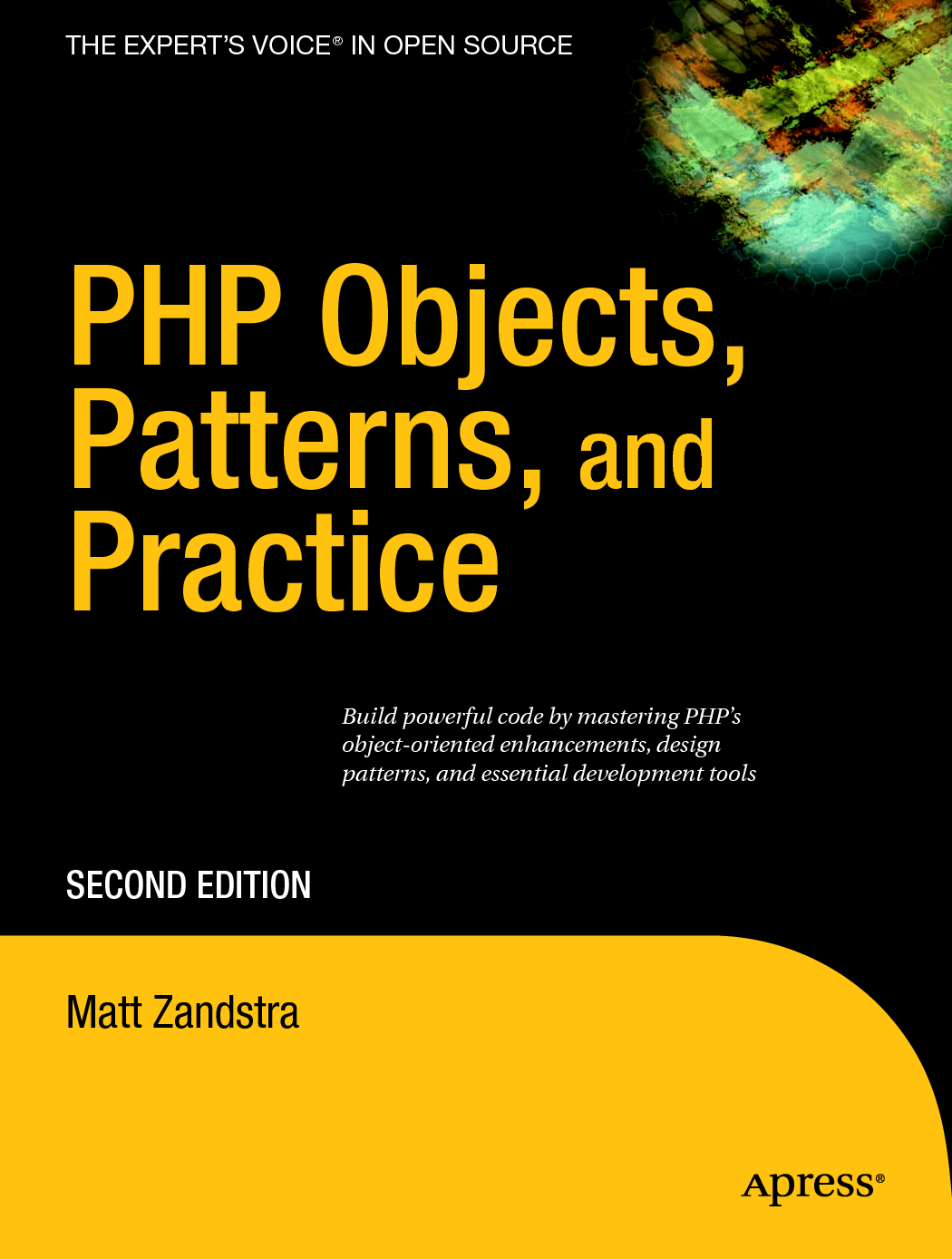 This book takes you beyond the PHP basics to the enterprise development practices used by professional programmers. Updated for PHP 5.3 with new sections on closures, namespaces, and continuous integration, this edition will teach you about object features such as abstract classes, reflection, interfaces, and error handling. You'll also discover object tools to help you learn more about your classes, objects, and methods.
Then you'll move into design patterns and the principles that make patterns powerful. You'll learn both classic design patterns and enterprise and database patterns with easy-to-follow examples.
Finally, you'll discover how to put it all into practice to help turn great code into successful projects. You'll learn how to manage multiple developers with Subversion, and how to build and install using Phing and PEAR. You'll also learn strategies for automated testing and building, including continuous integration.
Taken together, these three elements—object fundamentals, design principles, and best practices—will help you develop elegant and rock-solid systems.
What you'll learn
Learn to work with object fundamentals: writing classes and methods, instantiating objects, and creating powerful class hierarchies using inheritance.
Master advanced object-oriented features, including static methods and properties.
Learn how to manage error conditions with exceptions, and create abstract classes and interfaces.
Understand and use design principles to deploy objects and classes effectively in your projects.
Learn about design patterns, their purpose and structure, and the underlying principles that govern them.
Discover a set of powerful patterns that you can deploy in your own projects.
Learn about the tools and practices that can guarantee a successful project including unit testing; version control; build, installation, and package management; and continuous integration.
Who this book is for
This book is suitable for anyone with at least a basic knowledge of PHP who wants to use its object-oriented features in their projects.
Those who already know their interfaces from their abstracts may well still find it hard to use these features in their projects. These users will benefit from the book's emphasis on design. They will learn how to choose and combine the participants of a system, how to read design patterns, and how to use them in their code.
Finally, this book is for PHP coders who want to learn about the practices and tools (version control, testing, continuous integration, etc.) that can make projects safe, elegant, and stable.
Table of Contents
PHP: Design and Management
PHP and Objects
Object Basics
Advanced Features
Object Tools
Objects and Design
What Are Design Patterns? Why Use Them?
Some Pattern Principles
Generating Objects
Patterns for Flexible Object Programming
Performing and Representing Tasks
Enterprise Patterns
Database Patterns
Good (and Bad) Practice
An Introduction to PEAR and Pyrus
Generating Documentation with phpDocumentor
Version Control with Subversion
Testing with PHPUnit
Automated Build with Phing
Continuous Integration
Objects, Patterns, Practice
High Performance MySQL, 3rd Edition Optimization, Backups, and Replication
By Baron Schwartz, Peter Zaitsev, Vadim Tkachenko | Publisher: O'Reilly Media | Final Release Date: March 2012 | Pages: 828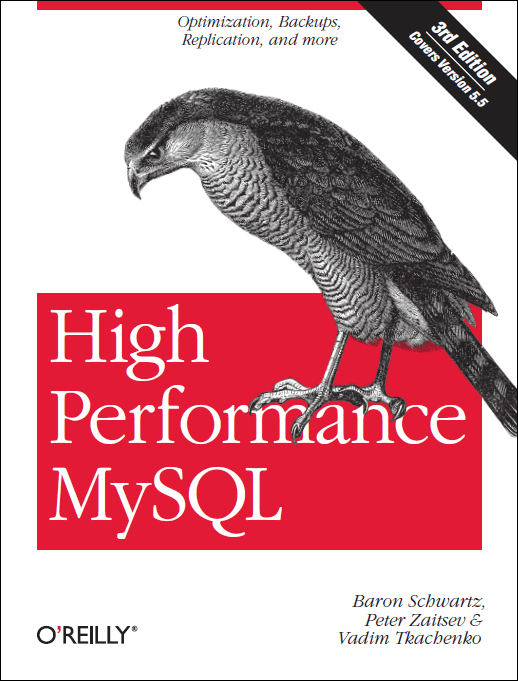 How can you bring out MySQL's full power? With High Performance MySQL, you'll learn advanced techniques for everything from designing schemas, indexes, and queries to tuning your MySQL server, operating system, and hardware to their fullest potential. This guide also teaches you safe and practical ways to scale applications through replication, load balancing, high availability, and failover.
Updated to reflect recent advances in MySQL and InnoDB performance, features, and tools, this third edition not only offers specific examples of how MySQL works, it also teaches you why this system works as it does, with illustrative stories and case studies that demonstrate MySQL's principles in action. With this book, you'll learn how to think in MySQL.
Learn the effects of new features in MySQL 5.5, including stored procedures, partitioned databases, triggers, and views
Implement improvements in replication, high availability, and clustering
Achieve high performance when running MySQL in the cloud
Optimize advanced querying features, such as full-text searches
Take advantage of modern multi-core CPUs and solid-state disks
Explore backup and recovery strategies—including new tools for hot online backups