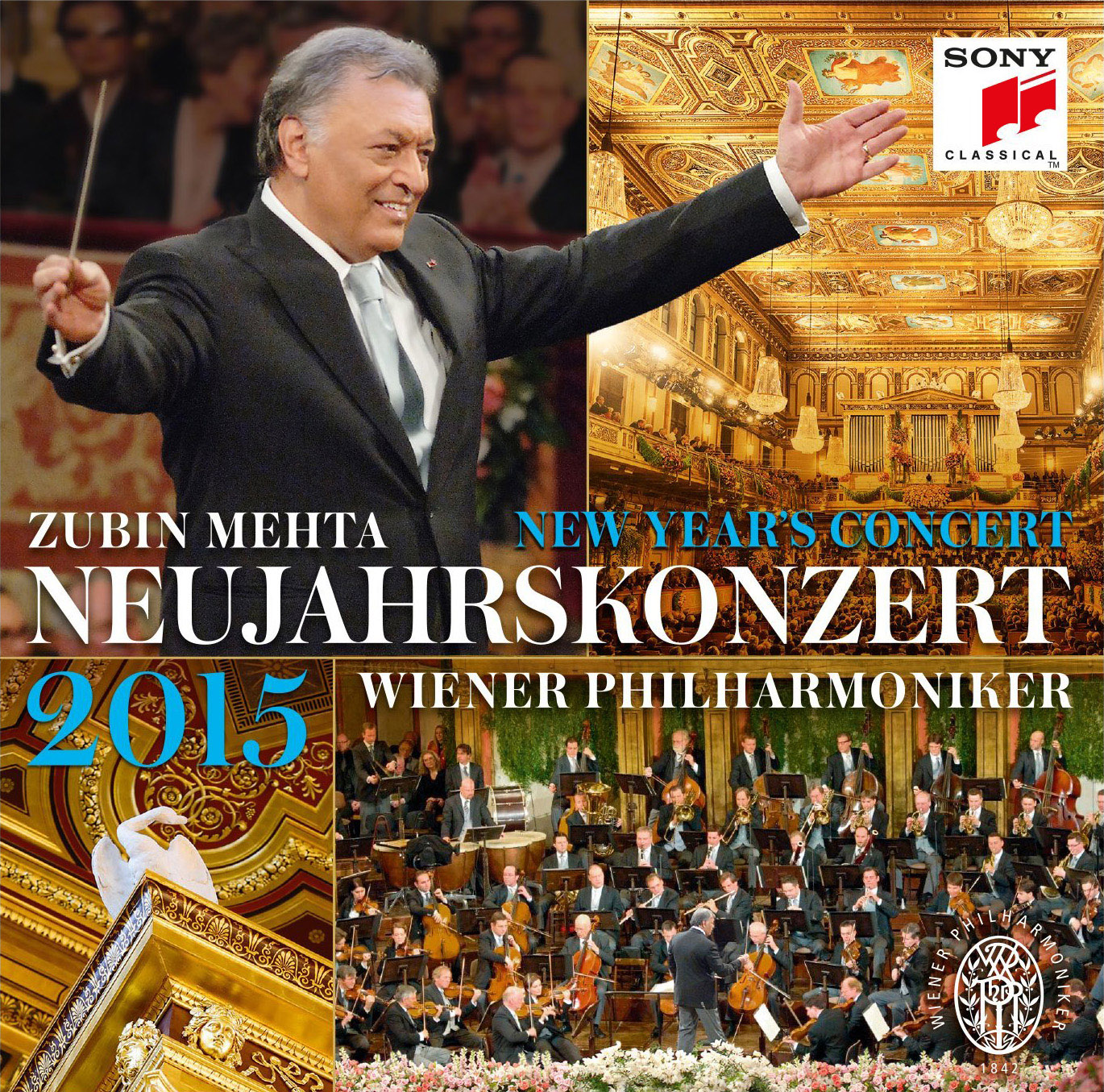 The Vienna Philharmonic New Year's Concert takes place under the baton of Zubin Mehta on January 1, 2015, in the Golden Hall of the Musikverein in Vienna. The Philharmonic's Honorary Conductor Zubin Mehta, with whom the orchestra has enjoyed an artistic partnership for over 50 years, conducts the New Year's Concert for the fifth time.
Conductor Zubin Mehta
Zubin Mehta was born in 1936 in Bombay and received his first musical education under his father's Mehli Mehta's guidance who was a noted concert violinist and the founder of the Bombay Symphony Orchestra. In 1954 he left for Vienna, where he eventually entered the conducting program under Hans Swarowsky at the Akademie für Musik. Zubin Mehta won the Liverpool International Conducting Competition in 1958 and was also a prize-winner of the summer academy at Tanglewood. By 1961 he had already conducted the Vienna, Berlin and Israel Philharmonic Orchestras and has recently celebrated 50 years of musical collaboration with all three ensembles.
Program
Franz von Suppé
Ouv. Ein Morgen, ein Mittag, ein Abend in Wien
Johann Strauss, Jr.
Märchen aus dem Orient. Walzer, op. 444
Josef Strauss
Wiener Leben. Polka francaise, op. 218
Eduard Strauss
Wo man lacht und lebt. Polka schnell, op. 108
Josef Strauss
Dorfschwalben aus Österreich. Walzer, op. 164
Johann Strauss, Jr.
Vom Donaustrande. Polka schnell, op. 356
-- Pause --
Johann Strauss, Jr.
Perpetuum mobile. Musikalischer Scherz, op. 257
Accelerationen. Walzer, op.234
Elektro-magnetische Polka, op. 110
Eduard Strauss
Mit Dampf. Polka schnell, op. 70
Johann Strauss, Jr.
An der Elbe. Walzer, op. 477
Hans Christian Lumbye
Champagner-Galopp, op. 14
Johann Strauss, Jr.
Studenten-Polka. Polka francaise, op. 263
Johann Strauss, sen.
Freiheits-Marsch, op. 226
Johann Strauss, Jr.
Annen-Polka, op. 117
Wein, Weib und Gesang. Walzer, op. 333
Eduard Strauss
Mit Chic. Polka schnell, op. 221
Download Magnetic Link magnet:?xt=urn:btih:2ea2debbac03e30d93a6ce3fa8b54c168ef633ea
Vienna Philharmonic Orchestra - New Year's Concert 2015 with Zubin Mehta - MPEG2 422HD +DolbyE - UPLINK [SRSL][50.90GB]
*******************************************************************************
                                     
                        Vienna Philharmonic Orchestra 
                            New Year's Concert 2015
                             with Zubin Metha
                                    LIVE !
                       
                               Satellite  UPLINK
                                   FULL HD
                                   1.1.2015
                                    1080i 50

                            MPEG-2 HD 4:2:2  41Mbit/s
                                                        
                                     
                                    
*******************************************************************************

-------------------------------------------------------------------------------
                              General Information
-------------------------------------------------------------------------------
Type.................: Live Event (Live Concert)

-------------------------------------------------------------------------------
                                 Release Notes
-------------------------------------------------------------------------------
General


Satellite Information:
Satellite Sign                          : Eutelsat 7B (E7B, 3D, Eutelsat 3D)
Satellite Position                      : 7°E
Satellite Position 1.1 .2015            : 7.11°E
Satellite Name                          : Eutelsat 7B
Norad                                   : 39163
Cospar number                           : 2012-022A
Operator                                : Eutelsat Communications S.A.
Launch date                             : 14-May-2013
Launch site                             : Baikonur Cosmodrome
Launch vehicle                          : Proton M
Launch mass (kg)                        : 5470
Dry mass (kg)                           : N/A
Manufacturer                            : Thales Alenia Space
Model (bus)                             : Spacebus-4000C3
Orbit                                   : Geostationary orbit
Expected lifetime                       : 15 Years


Frequency                               : 11051
SymbolRate                              : 19200
Polarity                                : Horizontal
Video PID                               : 512
Audio 1 PID                             : 4112
Audio 2 PID                             : 4128  DOLBY-E


DVB-S2                                  : YES
FEC                                     : 4/3
Modulation                              : AUTO

System Hardware                         : Spc TriChea™ Modular System
Dish                                    : 2 meters
Low Noise Block                         : Inverto BLACK ULTRA Quad High Gain
Capture Device                          : TeVii s471 DVB-S2 PCIe, x16
Capture OS                              : Windows Server 2003 R2 SP2, Datacenter x64 Edition
Capture Program                         : Spc TriChea™ Packet Capture 2.0

Format                                  : MPEG-2 4:2:2 HD (1080i50)
Format/Info                             : Moving Picture Experts Group
Stream Type                             : Program
Sector Size                             : 2048
Packets Per Block                       : 1
Video Buffer Size                       : 232 KB
bit rate total                          : 41.40 Mbps


Video
Format                                  : MPEG-2 4:2:2
Format profile                          : High Level 4.0
Codec ID                                : MPEG-2
Codec ID/Hint                           : MPEG-2
Bit rate                                : 38,900 Mbps
Width                                   : 1920 pixels
Height                                  : 1080 pixels
Display aspect ratio                    : 16/9
Mode                                    : Interlaced
Frame rate                              : 25 fps
Resolution                              : 32 bits
DC Coefficient                          : 12 bit
I-Frames                                : 15
B-Frames                                : 2
Color Primaries                         : ITU-R Rec. 624-4 System B,G
Transfer                                : ITU-R Rec. 624-4 System B,G
Matrix Coefficients                     : ITU-R Rec. 624-4 System B,G
Colorimetry                             : 4:2:2

Audio 1:
Format                                  : MPEG1 Layer2
Format version                          : MP2
Format profile                          : MPG
Bit rate mode                           : Constant
Bit rate                                : 384 Kbps
Minimum bit rate                        : 384 Kbps
bit rate per channel                    : 192 kbps
Channel(s)                              : 2  (DUAL CHANNEL)
Sampling rate                           : 48.0 KHz
Resolution                              : 16 bits

Audio 2:
Format                                  : Dolby E
Format version                          : AES-3
Format profile                          : AES-3 PCM Audio 7.1
Bit rate mode                           : Constant
Bit rate                                : 2448 Kbps
Minimum bit rate                        : 2448 Kbps
bit rate per channel (Uncompressed)     : 1125 kbps
Total bitrate       (Uncompressed)      : 9000 kbps
Channel(s)                              : 8
Sampling rate                           : 48.0 KHz
Resolution                              : 24 bits
Note                                    : Dolby-E and Linear Audio always use 48kHz Rate !
Note                                    : Dolby-E must be synchronized to the video signal !
Mix Input                               : 5.0 DolbyE + 2.0 PCM Stereo