It has long been a Philharmonic tradition at the New Year to present a program consisting of the lively and at the same time nostalgic music from the vast repertoire of the Johann Strauss family and its contemporaries. These concerts not only delight the audiences in the Musikverein in Vienna, but also enjoy great international popularity through the world wide television broadcast, which now reaches over 80 countries.
Originating during a dark period of Austria's history, these concerts were initially conceived for a local audience as a reminder of better times and a source of hope for the future. Today millions of people throughout the world are similarly encouraged by the light-hearted yet subtly profound character of this music, and draw joy and optimism for the New Year ahead.
It is the desire of the Philharmonic not only to provide musically definitive interpretations of the masterworks of this genre, but at the same time, as musical ambassadors of Austria, to send people all over the world a New Year's greeting in the spirit of hope, friendship and peace.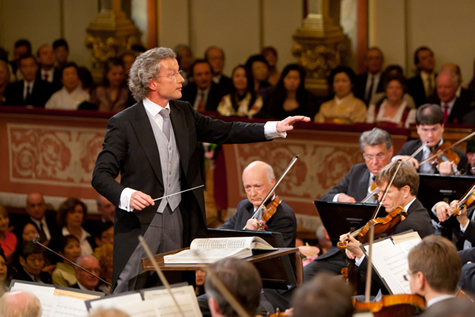 Conductor: Franz Welser-Möst
Program
Josef Strauss: The Soubrette, Fast Polka, op. 109
Johann Strauss, Jr.: Kiss Waltz, op. 400
Josef Strauss: Theater Quadrille, op. 213
Johann Strauss, Jr.: From the Mountains, Waltz, op. 292
Franz von Suppé: Overture to the Operetta "Light Cavalry"
Intermission
Josef Strauss: Music of the Spheres, Waltz, op. 235
Josef Strauss: The Spinstress, Polka française, op. 192
Richard Wagner: Prelude to Act III of the Romantic Opera "Lohengrin", WWV 75
Joseph Hellmesberger, Jr.: In Confidence, Polka mazur, op. 15
Josef Strauss: Hesperus' Paths, Waltz, op. 279
Josef Strauss: The Runners, Fast Polka, op. 237
Joseph Lanner: Styrian Dances, op. 165
Johann Strauss, Jr.: Melodies Quadrille, op.112
Giuseppe Verdi: Prestissimo from the Ballet Music in Act III of the Opera "Don Carlo"
Johann Strauss, Jr.: Where the Lemon Trees Bloom, Waltz, op. 364
Johann Strauss, Sr.: Memories of Ernst or The Carnival of Venice, Fantasy, op. 126
Download Franz Welser Moest-Wiener Philharmoniker-Vienna New Year's Concert 2013.TS[720P]