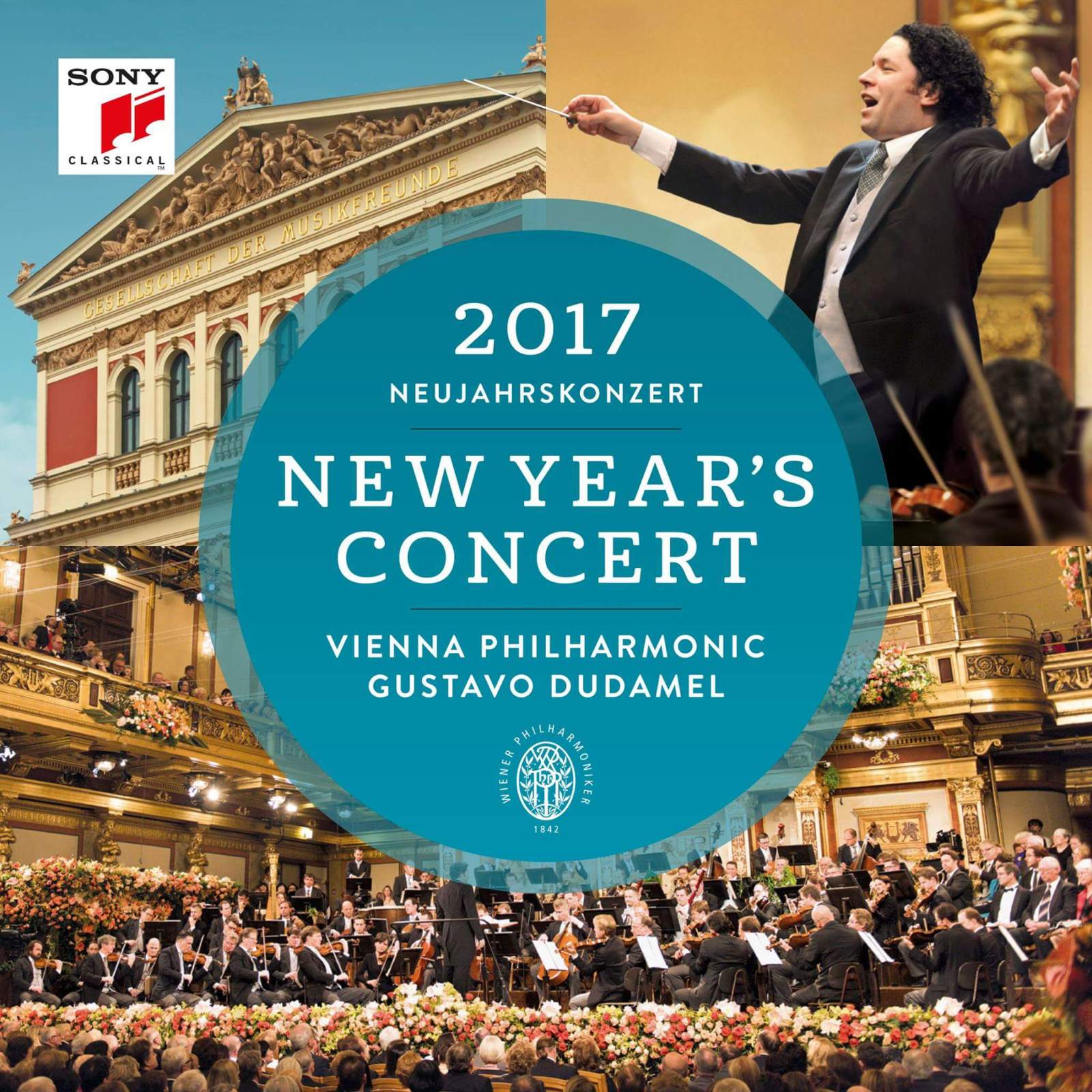 The 2017 New Year's Concert takes place on January 1, 2017, under the baton of Gustavo Dudamel in the Vienna Musikverein. Gustavo Dudamel, who was born in Barquisimeto, Venezuela in 1981, becomes the youngest conductor in the 75 year history of the New Year's Concert. In 2007, Gustavo Dudamel conducted the Vienna Philharmonic for the first time at the Lucerne Festival and made his debut at the Vienna Philharmonic Subscription Concerts in 2011. Dudamel conducted the Summer Night Concert Schönbrunn in 2012 and led the orchestra on its traditional Vienna Philharmonic Week in Japan in 2014.
The 2017 New Year's Concert will be broadcast in over 90 countries and followed by up to 50 million television viewers around the world.
Gustavo Dudamel
As an internationally renowned symphonic and operatic conductor, Gustavo Dudamel is motivated by a profound belief in music's power to unite and inspire. Currently serving as Music & Artistic Director of the Los Angeles Philharmonic and Music Director of the Simón Bolívar Symphony Orchestra of Venezuela, the impact of his leadership extends from the greatest concert stages to classrooms, cinemas and innovative digital platforms around the world. Dudamel also appears as guest conductor with some of the world's most famous musical institutions. In 2017, he becomes the youngest-ever conductor to lead the Vienna Philharmonic's famous New Year's Day Concert.
Program
Franz Lehár
Nechledil Marsch aus der Operette Wiener Frauen
Émile
Les Patineurs. Walzer, op. 183
Johann Strauss, Jr.
S' gibt nur a Kaiserstadt,s' gibt nur a Wien. Polka, op. 291
Josef Strauss
Winterlust. Polka (schnell), op. 121
Johann Strauss, Jr.
Mephistos Höllenrufe. Walzer, op. 101
So ängstlich sind wir nicht! Schnell-Polka, op. 413
-- Pause --
Franz von Suppé
Ouvertüre zu Pique Dame
Carl Michael Ziehrer
Hereinspaziert! Walzer aus der Operette "Der Schätzmeister", op. 518
Otto Nicolai
Die lustigen Weiber von Windsor (The Merry Wives of Windsor), Moon Choir
Johann Strauss, Jr.
Pepita-Polka, op. 138
Rotunde-Quadrille, op. 360
Die Extravaganten. Walzer, op. 205
Johann Strauss, sen.
Indianer-Galopp. op. 111
Josef Strauss
Die Nasswalderin. Polka mazur,op. 267
Johann Strauss, Jr.
Auf zum Tanze! Polka schnell, op. 436
Tausend und eine Nacht. Walzer nach Motiven der Operette "Indigo"
Tik-Tak. Polka schnell, op. 365
Vienna Philharmonic Orchestra - New Year's Concert 2017 with Gustavo Dudamel - MPEG4HD 422+DUAL DolbyE - UPLINK [SRSL] (35.46GB)
                          *Spc Recording Studio LABORATORY*
                                      *PRESENTS*

*******************************************************************************
                                     
                            Vienna Philharmonic Orchestra 
                                New Year's Concert 2017
                                 with Gustavo Dudamel
                                        LIVE !
                           
                                   Satellite  UPLINK
                                       FULL HD
                                       1.1.2017
                                                                       1080i 50

                                                   MPEG-4 HD 4:2:2  32,86Mbit/s
                                                        
                                     
                                    
*******************************************************************************

-------------------------------------------------------------------------------
                              General Information
-------------------------------------------------------------------------------
Type.................: Live Event (Live Concert)




-------------------------------------------------------------------------------
                                 Release Notes
-------------------------------------------------------------------------------
General


Satellite Information:
Channel ID                           : NYC 2 Fi01 WIEN
Satellite Sign                       : Eutelsat 7B (E7B, 3D, Eutelsat 3D)
Satellite Position                   : 7°E
Satellite Position 1.1.2017          : 7.04°E
Satellite Name                       : Eutelsat 7B
Norad                                : 39163
Cospar number                        : 2012-022A
Operator                             : Eutelsat Communications S.A.
Launch date                          : 14-May-2013
Launch site                          : Baikonur Cosmodrome
Launch vehicle                       : Proton M
Launch mass (kg)                     : 5470
Dry mass (kg)                        : N/A
Manufacturer                         : Thales Alenia Space
Model (bus)                          : Spacebus-4000C3
Orbit                                : Geostationary orbit
Expected lifetime                    : 15 Years

International Uplink:
Frequency                            : 10964.164 MHz
SymbolRate                           : 14399
Polarity                             : Vertical
Video PID                            : 512  (MPEG4 422)
Audio 1 PID                          : 4112 (MPEG1L2)
Audio 2 PID                          : 4128 (AES-3) DOLBY-E
Audio 3 PID                          : 4144 (MPEG1L2)
Audio 4 PID                          : 4160 (AES-3) DOLBY-E
BISS Decryption Device               : nVIDIA PASCAL GP104-200 GPU
  +BISS-E KEY                        : 0A485AACED2EAEC9

ORFAT UPLINK:
Frequency                            : 10964.164 MHz
SymbolRate                           : 14399
Polarity                             : Horizontal
Video PID                            : 512  (MPEG4 422)
Audio 1 PID                          : 4112 (MPEG1L2)
Audio 2 PID                          : 4128 (AES-3) DOLBY-E
Audio 3 PID                          : 4144 (MPEG1L2)
Audio 4 PID                          : 4160 (AES-3) DOLBY-E
BISS Decryption Device               : nVIDIA PASCAL GP104-200 GPU
  +BISS-E KEY                        : 0A485AACED2EAEC9

DVB-S2                               : YES
FEC                                  : 4/3
Modulation                           : AUTO

System Hardware                      : Spc TriChea™ Modular System
Dish                                 : 2    meters
Dish Calibration                     : Manual, Exact
Low Noise Block                      : Inverto BLACK ULTRA Quad High Gain
BISS Decryption Device               : nVIDIA PASCAL GP104-200 GPU
   +CUDA Version                     : 6.1
   +Multi Processors                 : 15
   +Cores Available                  : 1920
   +Clock                            : 2078MHz
   +Grid Size                        : 2147483647 x 65535 x 65535
   +Wrap Size                        : 32
   +CoProcessor                      : Intel(R) Core(R)i7 CPU 3930K
   +Clock                            : 4625MHz
   +Units                            : 6 + 6HT
URL                                  : http://www.nvidia.com/object/tesla-supercomputing-solutions.html

Capture Device                       : TeVii s472 DVB-S2 PCIe, x16
Capture OS                           : Windows Server 2016 Datacenter
Capture Program                      : Spc TriChea™ Packet Capture 7.0

Format                               : MPEG-2 4:2:2 HD (1080i50)
Format/Info                          : Moving Picture Experts Group
Stream Type                          : Program
Sector Size                          : 2048
Packets Per Block                    : 1
Video Buffer Size                    : 232 KB
bit rate total                       : 32.86 Mbps


Video
Format                               : MPEG-4 4:2:2
Format profile                       : High Profile 422
Codec ID                             : MPEG-4
Codec ID/Hint                        : MPEG-4
Bit rate                             : 26,900 Mbps
Width                                : 1920 pixels
Height                               : 1080 pixels
Display aspect ratio                 : 16/9
Mode                                 : Interlaced
Frame rate                           : 25 fps
Resolution                           : 24 bits
DC Coefficient                       : 8 bit
I-Frames                             : 15
B-Frames                             : 2
Color Primaries                      : ITU-R Rec. 624-4 System B,G
Transfer                             : ITU-R Rec. 624-4 System B,G
Matrix Coefficients                  : ITU-R Rec. 624-4 System B,G
Colorimetry                          : 4:2:2

Audio 1:
Format                               : MPEG1 Layer2
Format version                       : MP2
Format profile                       : MPG
Bit rate mode                        : Constant
Bit rate                             : 384 Kbps
Minimum bit rate                     : 384 Kbps
bit rate per channel                 : 192 kbps
Channel(s)                           : 2  (STEREO)
Sampling rate                        : 48.0 KHz
Resolution                           : 16 bits

Audio 2:
Format                               : Dolby E
Format version                       : AES-3
Format profile                       : AES-3 PCM Audio 8.0
Bit rate mode                        : Constant
Bit rate                             : 2448 Kbps
Minimum bit rate                     : 2448 Kbps
bit rate per channel (Uncompressed)  : 1125 kbps
Total bitrate        (Uncompressed)  : 9000 kbps
Channel(s)                           : 8
Sampling rate                        : 48.0 KHz
Resolution                           : 24 bits
Note                                 : Dolby-E and Linear Audio always use 48kHz Rate !
Note                                 : Dolby-E must be synchronized to the video signal !
Mix Input                            : 8.0 DolbyE

Audio 3:
Format                               : MPEG1 Layer2
Format version                       : MP2
Format profile                       : MPG
Bit rate mode                        : Constant
Bit rate                             : 384 Kbps
Minimum bit rate                     : 384 Kbps
bit rate per channel                 : 192 kbps
Channel(s)                           : 2  (STEREO)
Sampling rate                        : 48.0 KHz
Resolution                           : 16 bits

Audio 4:
Format                               : Dolby E
Format version                       : AES-3
Format profile                       : AES-3 PCM Audio 8.0
Bit rate mode                        : Constant
Bit rate                             : 2448 Kbps
Minimum bit rate                     : 2448 Kbps
bit rate per channel (Uncompressed)  : 1125 kbps
Total bitrate        (Uncompressed)  : 9000 kbps
Channel(s)                           : 8
Sampling rate                        : 48.0 KHz
Resolution                           : 24 bits
Note                                 : Dolby-E and Linear Audio always use 48kHz Rate !
Note                                 : Dolby-E must be synchronized to the video signal !
Mix Input                            : 8.0 DolbyE