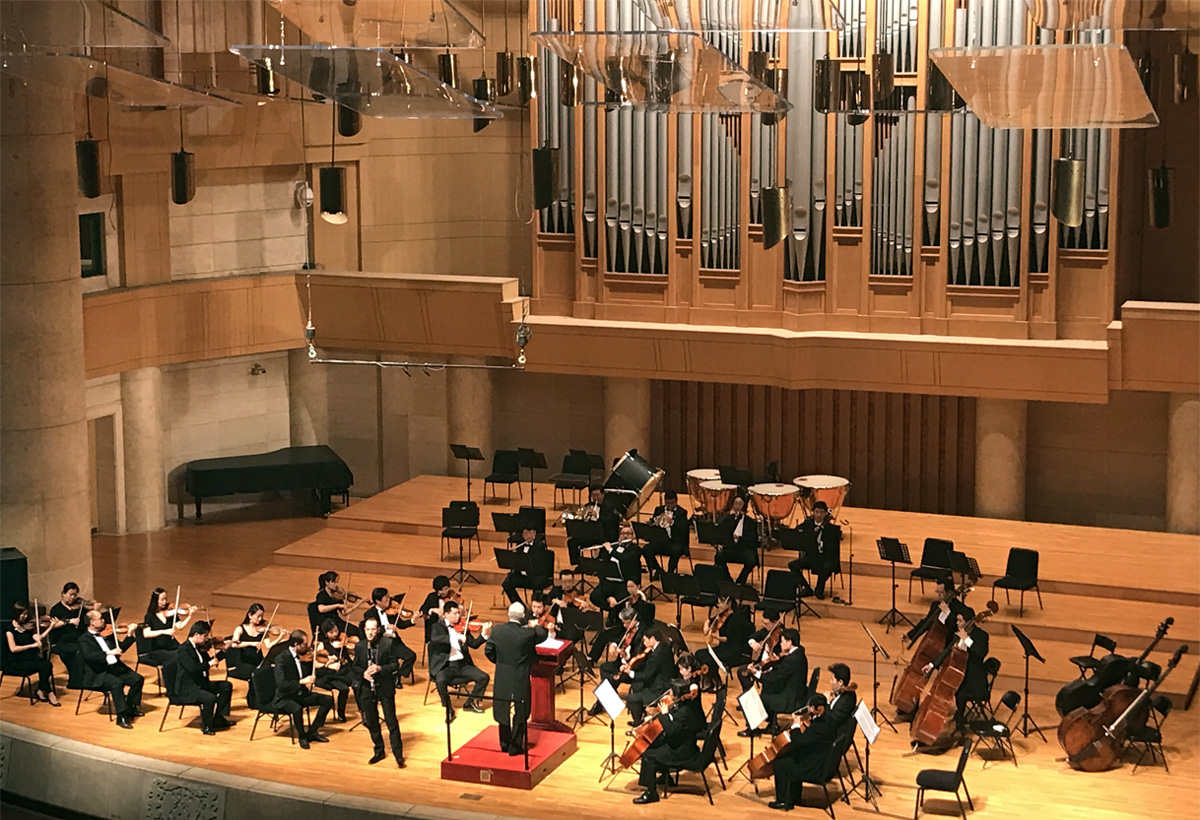 Forbidden City Concert Hall (FCCH) located inside the beautiful Zhongshan park, this small concert hall hosts mainly classical concerts and performances.
Time: 19:30, Thursday, June 8, 2017
Orchestra: Beijing Symphony Orchestra
Conductor: Yaron Gottfried
Clarinet: Ron Selka
Ron Selka
Ron Selka, Principal Clarinetist of the Israel Philharmonic Orchestra, has appeared in recitals and chamber music concerts in Europe, the USA and Israel. He has performed as a soloist with the Israel Philharmonic Orchestra under the baton of Maestro Zubin Mehta as well as with the Jerusalem Symphony Orchestra, the Israel Symphony Orchestra, Rishon Lezion and the IDF Chamber Orchestra.
Dan Gottfried
Dan Gottfried studied piano at the Tel Aviv Academy of Music. In 1959 he won First Prize in the Mozart Piano competition. In 1962 he earned an undergraduate degree in economics at Hebrew University of Jerusalem and went on to study law. He began his career as a classical pianist in the early 1960s. In the 1970s he was one of the founders of the Israeli Jazz Workshop quartet, the group that recorded the first instrumental jazz album in Israel and fused jazz with Jewish and Arab motifs. In 1981 he founded the Jazz Faculty in the Jerusalem Academy of Music and Dance and served as head of the faculty for eight years. In 1985 he founded the Jazz Studies department of the Thelma Yellin Art High School. In 1992 he was commissioned by the Tel Aviv Museum of Art to direct the Jazz Concerts Series at the museum. In 1994 he started the Jazz Series Lectures at the Open University of Israel, a yearly series of ten lectures on the History of Jazz, which is still an ongoing project. In 1998 he created the "Jazz at The Opera" concert series at the Tel Aviv Opera House, which he ran until 2004.
Beijing Symphony Orchestra
Beijing Symphony Orchestra founded in 1977, is a classical orchestra in based in Beijing, China. One of its best-known performances was an unfolding of Chinese history and culture performed at Badaling in the Great Wall which was transmitted internationally via satellite.
Program
Wolfgang Amadeus Mozart - Overture Die Entführung aus dem Serail K.384
Wolfgang Amadeus Mozart - Clarinet Concerto in A major K.622
Wolfgang Amadeus Mozart - Symphony No.40 in G minor K.550