Transparent proxy also known as an intercepting proxy, inline proxy, or forced proxy, a transparent proxy intercepts normal communication at the network layer without requiring any special client configuration. Clients need not be aware of the existence of the proxy. A transparent proxy is normally located between the client and the Internet, with the proxy performing some of the functions of a gateway or router.
Transparent Proxy practice example is nowadays a lot of companies use behavior management software.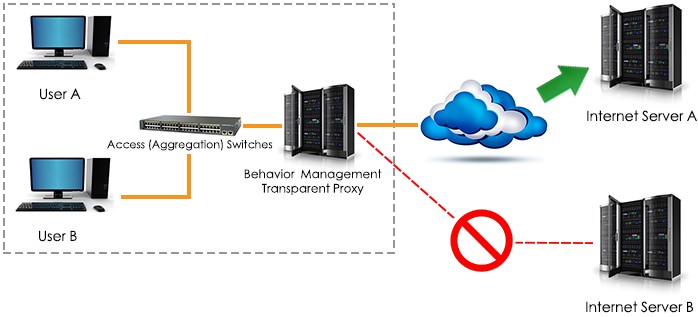 User A and User B does not know behavior management device acts as a transparent proxy behavior when user A or user B to server A or B to submit a request to the server when the device according to its own strategy transparent proxy to intercept and modify user A or B packets and as the actual request party a or B to the server sends a request to receive information when returned, transparent proxy and then according to their own settings to allow packets sent back to the user a or B, as shown above, if the transparent proxy settings do not allow access server B, then the user a or user B does not get the server B data.